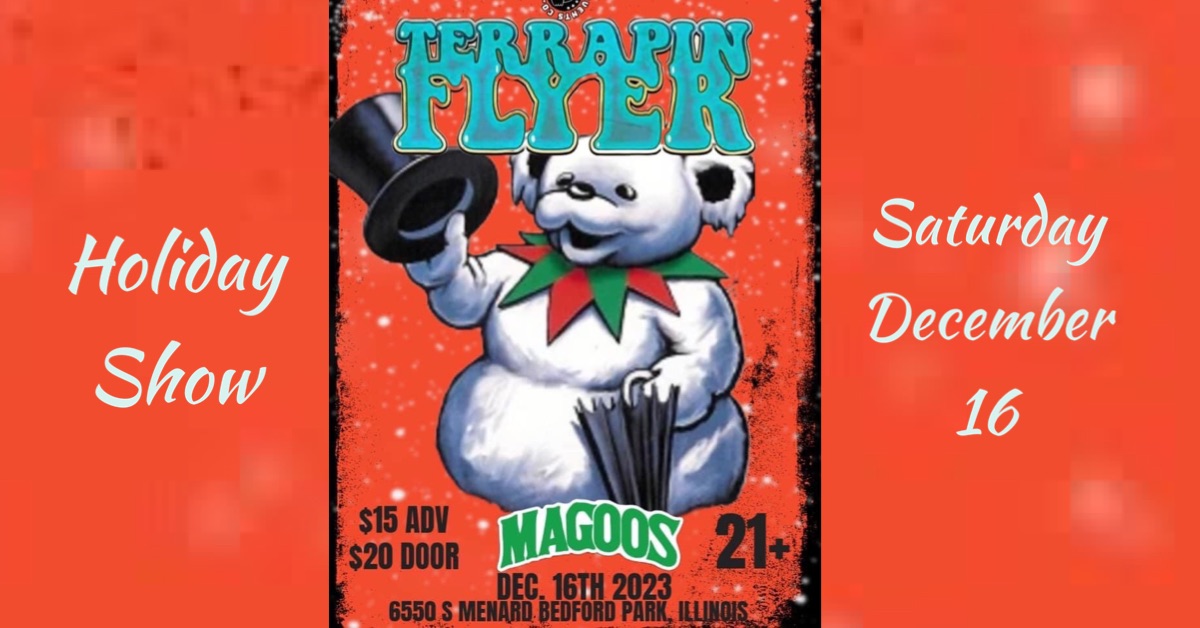 Terrapin Flyer @ Magoos
41
41 people viewed this event.
Event Location: S Menard Ave, Bedford Park, IL 60638
Event Date: December 16th 2023
Doors: 19:00 PM
Ticket Pricing: $15 Single Day Tickets
Event Description: 
For the past 25 years Terrapin Flyer has been touring with the finest in the Grateful Dead community of musicians and has become a fixture of the national music scene, playing regularly at venues around the country and appearing at music festivals. The band has a dedicated following among fans of the Grateful Dead and other jam bands, and is known for their authentic interpretations of rare and classic Dead songs. Over the years, Terrapin Flyer has toured with many notable musicians, including Melvin Seals from the Jerry Garcia Band, Vince Welnick, Tom Constanten from the Grateful Dead and many other Dead-related musicians. Overall, Terrapin Flyer is a talented and highly regarded band that has made a significant impact on the national music scene.
It started in 1999 at the Boulevard Cafe in Chicago as a Grateful Dead jam night and soon became a touring Grateful Dead band featuring legends in the Grateful Dead. In 2001 TF began touring with final keyboardist of the Grateful Dead Vince Welnick. In 2004 touring with Melvin Seals who played Hammond organ in the Jerry Garcia Band. And then in 2006 with another of the Grateful Dead keyboardists Tom Constanten. Some of these tours included several first ever lineups with the combination of Melvin Seals, Tom Constanten and Mark Karan from Ratdog. These were not passing associations but long term bonds with these legends. For 15 years TF toured with Melvin Seals and kept a busy schedule with him as a side gig to his band Melvin Seals & the JGB. With Constanten they were mentioned in the Rolling Stone's "Guide to the Grateful Dead" for the many years of touring with him. Search through this website for many fan recorded shows of the many interesting lineups from the band's history https://archive.org/details/TerrapinFlyer
Terrapin Flyer has been an evolution of band members over the past quarter of a century and currently features musicians that share the gravitas of having toured many years with members of the Grateful Dead and Jerry Garcia Band. At it's core Terrapin Flyer is a band of deadheads who are committed to attempting to recapture the spirit and essence of the Grateful Dead by incorporating the roots music of jazz, blues and bluegrass into jams and bringing the music to new and similar places. Josh Olken is the lead guitarist, Wavy Dave on the bass, Jon Reed is the drummer, keyboardist is Michael Cole and rhythm guitarist Doug Hagman.
* Ticket Confirmation will be sent to your email & your full name will be added to the guest list at the door. If you lose / or do not receive your ticket, your name used at checkout will be on the guest list at the door.*
***ALL SALES ARE FINAL. NO REFUNDS UNLESS EVENT IS CANCELLED***